Swipe to the left
Tasting Notes: What is Sun-Dried Black Tea (Shai Hong)?
UPDATE:
Th Shai Hong bricks are completely should out. We initially didn't expect such a popularity, so we didn't stock up enough. However,......
The 2017 Shai Hong batch is gonna arrive within a week! It's gonna be this time in loose leaves! If you're interested to buy a sample or a 70 gram bag @9.95 USD, please contact us at [email protected] to pre-order yours. Mention your recipient name, address, postal code and country and we'll reply your email with a payment link. Regards, Teasenz
Sun-dried black tea, also known as 'shai hong' is made based on a different processing method than mainstream black teas. Most black teas are made letting the leaves wither, followed by rolling and fermentation. Only the last step is different. The most common way is to roast the black tea leaves to stop the fermentation. However, as the name already reveals, for a sun-dried black tea, the fermentation is stopped by drying the leaves in the sun (as it's done for pu erh).

'Pu Erh Shai Hong' or 'Tai He Tian Cha'
Because tea types are classified based on their processing method, a sun dried black tea can also be considered a type between black and pu erh tea. This is why it's not strange that sun dried black are also known as 'pu erh shai hong (普洱晒红).
The after taste of a Shai Hong is sweet and because it originates from Tai He, it's also known as 'Tai He Sweet Tea' or 'Tai He Tian Cha' (太和甜茶).
Our Sun Dried Black Tea Tasting Notes
Update 28 Feb 2017: We've Obtained A Sample! In this section we'll report our tasting notes.
Since we first published this post, we couldn't wait but to try a Shai Hong ourselves. It was pretty difficult for us to get our hands on this type of tea. We're working with 5 tea growers in Yunnan province, but only one of them was processing Shai Hong in a tea brick as you can see below. So we asked the grower why he decided to grew Shai Hong and his answer is definitely worth sharing:
"I always wanted to try a 3 to 5 year old Dian Hong black tea. A few years ago, I drank one together with friends. I didn't like it. There was hardly any aroma left, the soup was light and there wasn't any texture at all. Nothing interesting. Later on I heard about Shai Hong, which was a kind of black tea that was sun-dried like a sheng pu erh. In 2015, I started to produce this tea myself, to see if by tweaking the production method, would improve the storage-ability of a black tea. I'm pretty satisfied with the result myself. The bitterness is completely gone due to aging, the soup is somewhat thick, and it has still the flavour of dian hong, but slightly more medicinal. Of course, that's my opinion and you should try it yourself. Besides, this brick is made from 2015 leaves, so let's see how it further improves over time."
One opening the brick, it looked at first like a sheng pu erh. However, when you put the brick in daylight, you can clearly see the golden buds, which reminded us of a classic Dian Hong Yunnan black tea. An interesting tea! So we quickly started to loosen it up as you can see below.
The brick wasn't too tightly compressed luckily, so it was pretty easy to get a few nice chunks quickly consisting of about 5 gram tea.

It's our first time, so we regarded this tea as we're brewing a sheng pu erh. We found that the leaves released flavour quickly as the liquor turned dark pretty fast. It could be because the processing is closer to that of a black tea, but most likely it's because the brick consists of quite some broken leaves. It's not that strange, most often bricks are compressed out of lesser grade leaves. This doesn't mean it not tasty at all. So we started sipping this tea...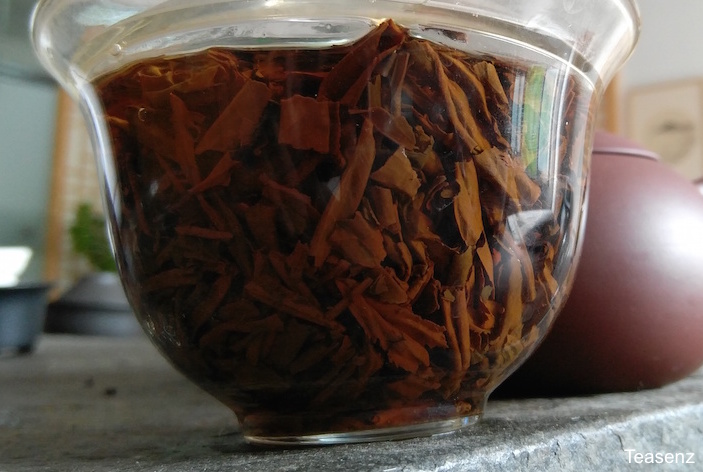 The colour of the brew looked like something between a black tea and a ripe pu erh tea. Pretty intense dark red, though we brewed it for only 10 seconds. Not strange, because our gaiwan was fully filled with leaves once they expanded.
The taste was really interesting and was 'confusing' because we couldn't really place it. The first sip told me it was the aroma of a Yunnan black tea, but then the after taste was kind of like a ripe sheng pu erh. The texture was indeed thicker as the grower told us, something that also reminded us of a shou pu erh. The smoothness is amazing and probably due to the 2 years of aging. We also noted that the aging allowed us to brew the leaves up to 9 brews, which is pretty amazing for a black tea. The aging seems to result in more yield. If the brick was made of full leaves and buds, the yield could even be higher.
Overall, we think we can pretty much summarise this tea as a Dian Hong black tea with the texture of a young ripe pu erh. We loved it and it was definitely a highlight of our working day or perhaps working week. It's a tea we recommend to those who love a classic Yunnan black tea or a ripe pu erh drinker. It's also great for those who love teas with notes of caramel or dried fruit.
Update March 2017: After drinking this tea several times during the past few weeks, we discovered that it tastes better when steeped at a lower temperature than pu erh. A temperature around 85 C (185 F) seems to be about right. At full temperature is still possible, but you've to do really really short steeps or the flavour will overwhelm the black tea aroma.
Long-term Storage
Because this type of black tea is sun-dried, it's considered suitable for long-term storage. Due to this feature, it's also often compressed into cakes. It's said that the longer it's store the better the flavour. We'll put this brick away for a while and revisit it to see if it's indeed storable and review how the flavour chances over time.

Where To Buy Sun Dried Black Tea
Unfortunately this tea isn't available in our store at the moment. However, if you're really interested and would like to buy the same brick or get a sample, simply contact us at [email protected] The brick is 250 gram (7 oz) in weight and costs 16.95 USD plus 5 USD shipping costs (converted in your currency). Teasenz ships worldwide.