How to Make your own Chrysanthemum and Goji Berry Tea Blend?
Among thousands of herbal tea blends that exist in China, the combination of dried Chrysanthemum flowers with Goji berries (or wolf berries) is among the most popular recipes.
There's a good explanation for that. First of all, this tea blend recipe is easy to make at home. The combined nutrition of dried goji berries and chrysanthemum is effective in improving eye health according to Chinese Medicine experts, making it an ideal beverage for those who work a lot behind the computer.
Last but not least, we at Teasenz simply love this herbal tea blend for it's flowery aroma and berry sweet taste.
Ingredients
To make a medium sized teapot (400 ml / 13 oz) of this herbal infusion, you'll need the following:
15 pieces of goji berries
20 pieces of Chrysanthemum flowers
400 m (13 oz) of hot water
A glass teapot or another type of teaware that fits the ingredients above
Tea Blend Recipe
This Chrysanthemum drink is really easy to make. Once you've the ingredients ready, watch this video or read the steps below:
Add the dried goji berries and chrysanthemum flowers into the teapot.
Fill the teapot with 400 ml / 13 oz water at 100 C / 212 F and close the lid.
Let the berries and flowers steep for 10 minutes.
Once the steeping time has passed the herbal tea is ready to serve.
Optional: add sweetener. Normally sweeteners aren't required as the goji berries will release a sweet flavor. For added sweetness, we suggest rock sugar or honey. Both are great to complement the fruity and flowery notes of this herbal blend.
Tip: don't forget that this tea can be steeped for another round!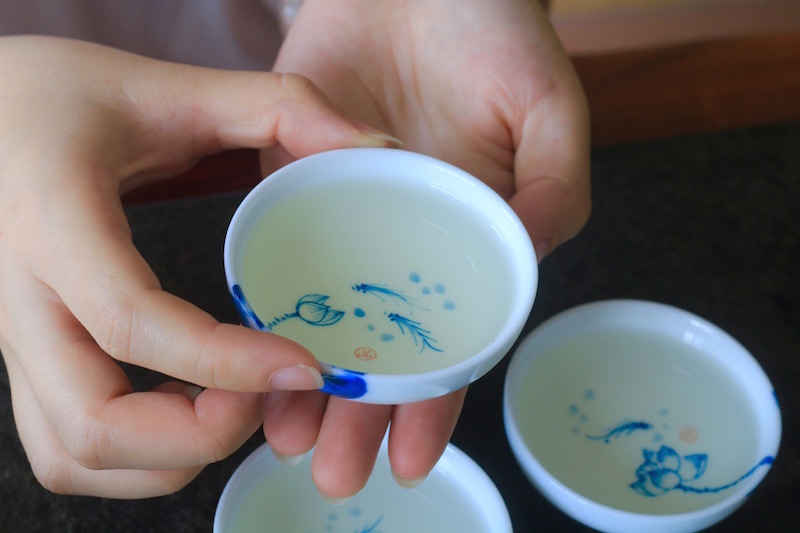 Where to buy Chrysanthemum and Goji berries?
While the below tea blend recipe can be pretty easy to execute at home in just a few minutes, finding the ingredients can be sometimes challenging. If you're lucky there's a local Chinese supermarket nearby where you can get some Chrysanthemum flowers.
Goji berries are more available in normal supermarkets these days. However, what's important is that you can't use fresh Goji berries. Fresh berries are great to eat, but won't give you a perfect infusion. Dried berries and flowers are therefore important to get the perfect flavor. Also make sure not to buy them as a ready made mix blend, as they tend to be mediocre in quality.
If you've a hard time getting the ingredients required, you can simply order them in our online store. Our goji berries from Ningxia are dried when fresh, and relatively smaller in size, making them suitable to prepare as tea. We've got 3 types of Chrysanthemum flowers in stock as well, but we recommend our calming Chrysanthemum buds with a fresh taste to perfectly match the berry flavor of goji.
However, you might also want to try out this recipe with the white Chrysanthemum. This flower type is very aromatic but lighter in taste, letting the goji flavor to be more in the foreground. The'll also look lovely in the pot.
Nutrition Facts
Goji berries nutrition: these berries are very low in sodium, cholesterol, and saturated fat. It's a good source for Thiamin, Protein and Calcium and especially rich in Vitamin A, Riboflavin, Potassium, Zinc, Copper, Dietery Fiber and Selenium.
Chrysanthemum flowers nutrition: these flowers are very low in cholesterol. It's a good source for Niacin, Protein and Zinc and especially rich in Dietary Fiber, Thiamin, Vitamin A, Riboflavin, Folate, Vitamin B6, Calcium, Iron, Phosphorus, Magnesium, Potassium, Copper and Manganese.
Health Benefits
Both ingredients of this herbal tea recipe have their own unique health benefits and are high in antioxidants. We can write long paragraphs about this, but we rather want to emphasize the combined benefit which is that it's known to help improve eye health.
Are your eyes tired of staring at the computer in office, or studying hard to get ready for the exams? Get rid of puffy eyes or dark circles and let your eyes sparkle again.
This Chrysanthemum and goji berry tea is also great to stay hydrated during summers. The bright sun can strain your eyes, but this herbal blend can keep your eyes fresh!
There are no side effects of goji and chrysanthemum flowers known to us and when steeped as a tea, it's hard to over consume. If you're pregnant or in doubt, always make sure to consult a medical practitioner