Pagoda Poem: Tea by Poet Yuan Zhen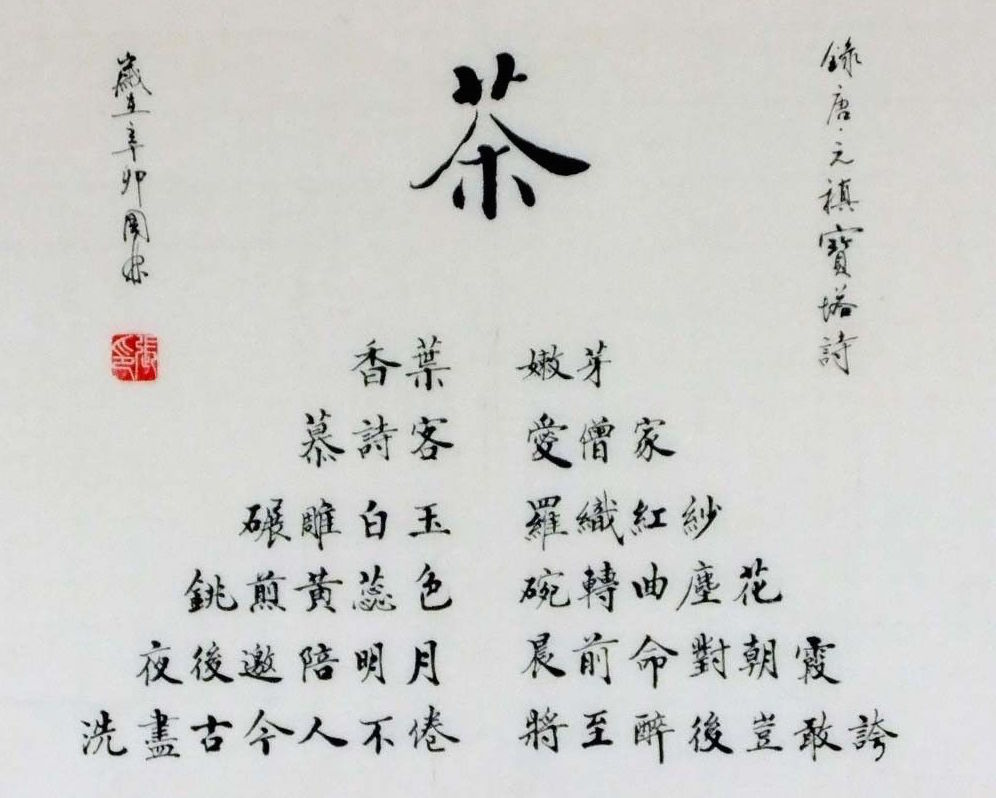 Enjoy below one of our favorite tea poems from the Tag dynasty written by famous poet Yuan Zhen translated by Teasenz. As you can see in the above image, you can understand why it's called the 'pagoda poem'.
Pagoda tea poem translated in English
We've tried to maintain the pagoda shape, in which we partially succeeded. An accurate translation is perhaps more important ;)
Tea.
Fragrant leaves, delicate buds.
Admired by poets, loved by monks.
Crushed with white jade, filtered through red gauze.
Cauldron brewed to the color of gold, served in cups aswirl in bubbles.
Inviting the moon at night for company, facing alone the twilight before the sunrise.
Feeling energized in past or present, praise fully rinsing away drunkenness.
Characters & pinyin pronunciation
For those of you who are studying Mandarin, see below the original text in Chinese plus pinyin pronunciation:
茶。
香叶,嫩芽。
慕诗客,爱僧家。
碾雕白玉,罗织红纱。
铫煎黄蕊色,碗转曲尘花。
夜后邀陪明月,晨前独对朝霞。
洗尽古今人不倦,将知醉后岂堪夸。

Chá.
Xiāng yè, nèn yá.
Mù shī kè, ài sēng jiā.
Niǎn diāo báiyù, luózhī hóng shā.
Diào jiān huáng ruǐ sè, wǎn zhuǎn qū chén huā.
Yè hòu yāo péi míngyuè, chén qián dú duì zhāoxiá.
Xǐ jǐn gǔjīn rén bù juàn, jiāng zhī zuì hòu qǐ kān kuā.