Wuyishan Tour: Tea Tasting, Sourcing & Educational Tours
Are you planning to visit Wuyishan to learn more about Wuyi tea or find local suppliers? Teasenz offers custom tea tasting, sourcing, sight seeing and/or educational travel programme, to that is tailored to your goals. On this page you'll find information about all the possibilities.
Wuyishan Tea Tasting & Training
The best way to enjoy and learn about the different teas that Wuyishan has to offer is by tasting unique teas made by local farmers. Each farmer may grow a different cultivar and process their teas in different ways.
During these tea tastings, the preparation steps of the teas will be explained. You'll taste many teas and compare the flavour and aroma.
At last, you'll also be shown around tea gardens as well as the factories where the teas are processed!
Wuyi Tea Sourcing
If your main goal is to find reliable suppliers, feel free ask the farmers about the prices of the teas you like. Keep in mind the weight unit used in China is 'yi jin' (一斤), which is equal to 500 grams (17.5 oz) of tea. Your local guide will help you communicate with the farmer.
A few tips:
Focus first on tasting the tea.
Communicate about how much quantity of tea you're looking for, when asking prices.
Let the local guide know what kind of grade of teas and what price range you're looking for. The local guide can let the farmer know in advance, and select teas that suit you the most.
Wuyi Mountain Sight Seeing & Activities
Tea tasting and sourcing might be the main reasons for most people to visit Wuyishan. Yet, there are a few important attractions that you can't miss:
Wuyishan scenic area
Xiamei village: an ancient and picturesque village in the Wuyishan area along the ancient tea horse road.
Da Hong Pao Impressions show/performance
Bamboo rafting
Eat local food such as da hong pao eggs!
Prepare yourself before the trip
To get the most out of your travel, make sure to learn more about Wuyishan before hand. We can recommend the following two articles:
Wuyi rock tea classification, benefits, caffeine
Also try out our Wuyishan tea sampler before you visit!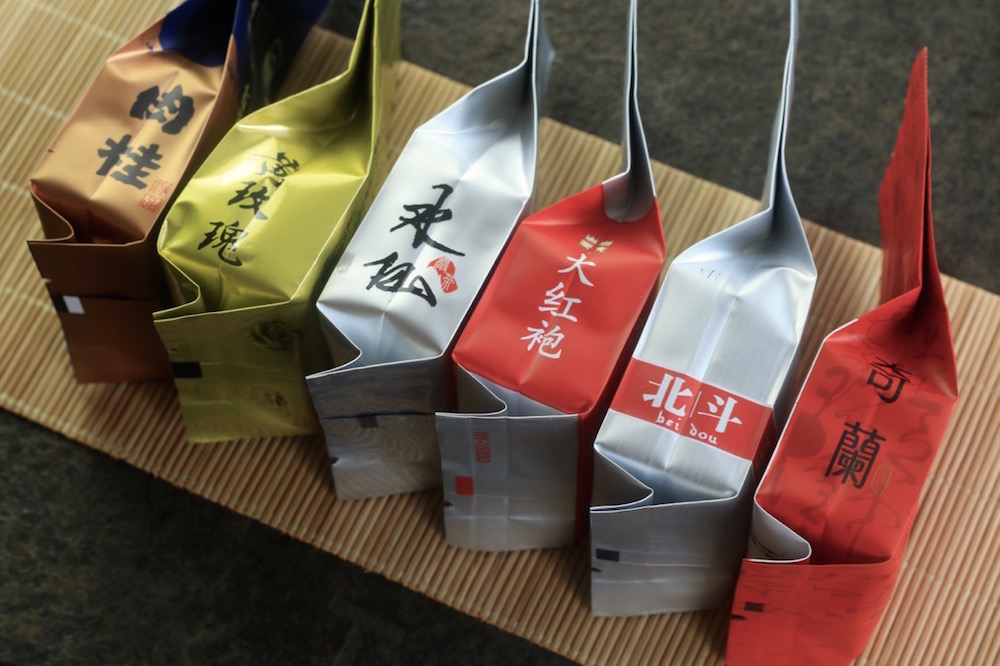 General services
Other services may include the following depending on your budget:
Pickup at airport or train station
Dedicated local driver
Local English speaking guide
Arranging accommodation
Example: 4 Day Wuyishan Tour
A 4-day programme may look like this:
Day 1:
Airport pickup and drop luggage at hotel
Tea garden sight seeing.
Visit ancient Wuyishan preservation area to see the oldest Da Hong Pao mother trees.
Visit tea village to visit local tea farmers. Taste tea & learn about about tea processing.
Evening (optional): Impressions of Da Hong Pao show (optional, but highly recommended).
Day 2:
Visit Royal Tea Garden to learn about tea accompanied with classic Chinese music.
Zhu Xi academy to learn about Chinese Confucian culture.
Visit different peaks in Wuyishan including: Heavenly Peak, Cloudy Nest, Tian You Peak etc.
Visit tea houses and taste different teas.
Day 3:
Visit Xiamei village. A historic village along the ancient tea horse road near Wuyishan.
Bamboo rafting.
Day 4:
1-2 day tour to Zhenghe, the white tea mekka.
Contact us
Contact us at [email protected] if you're interested to know more. You'll be surprised how affordable our personalised packages are. Depending on the duration of your stay, your budget and the goal of your trip, we can design a tailor made programme for you.
Let us know the following so we can help you better:
Which day will be arriving and leaving Wuyishan?
Are you travelling by air or train?
Have you already booked a hotel? If so, what's the name and address of the hotel?
What are you main goals of the trip?