How a Long Spout Teapot Connects Tai Chi Martial Arts with Tea
One day, our special customer David Němec contacted us with a unusual task: to find a long spout teapot. During our pleasant discussions with him, we discovered how this unique teapot connected martial arts, such as tai chi, and tea.
Read this interview with David Němec, a doctor in the field of the radiology & diagnostic imaging, who has practiced tai chi for over 11 years and run his own tai chi school "Taiji Academy Jablonec".
How did you get in touch with tai chi?
As a doctor, I examine muscles, bones and joints of the human body, and therefore I cooperate with many athletes and sports doctors. This is how my profession connects with tai chi (also known as 'taiji') and kung fu. Because of this passion, I started my own tai chi school in 2014 (Taiji Academy Jablonec, the School of David Nemec, School of Chinese Tea and Traditional Chen Taijiquan for Life and Health) and started to popularise the Chinese culture.
Why do you prefer tai chi over other forms of martial arts?
Previously, I studied some other martial arts, but I was seeking for one with a good philosophy, which I all found in tai chi. I've been in China to study taijiquan in Chenjiagou (Henan province).
What do you think of Chinese tea?
In my childhood I enjoyed tea leaves very much, but I drank them only for my pleasure, infrequently and not properly, but during a tai chi quan workshop in 2013, I learned about gongfu tea ceremonies and got fascinated by it! I started to study it more and more and with the establishment of my Taiji School, I also got very interested in Chinese tea. I watched many videos of gongfu cha, I tried it again and again, and nowadays I have a small tea nook in my Taiji Academy. Now I drink Chinese tea frequently and properly :).
How do you connect tai chi chuan with Chinese tea?
In fact, each of my tai chi lesson for my students starts with a cup of tea. I've found an unique philosophy in the Chinese gongfu cha ceremonies. In my opinion, each cup of tea has life in it, full of energy and spirituality.
Therefore, I think the practice of taijiquan and tea are in complete harmony. I invented a new approach in my school "Tai-ji Cha-ji" (太极 茶极) to express how much these two elements of Chinese culture are connected.
Below some pictures of David's kids students practicing tai chi
How we got to know David
Last year David saw a video of Kung fu/Taiji cha ceremony with a long spout teapot and got excited! After a long search he found us, and we helped him with finding the teapot that he was looking for.
"I looked for a shop, it was a very long search, but I was successful...I discovered Teasenz :)"
See below some images of David practicing martial arts with the long spout iron kettle that he send us after receiving the long spout teapot.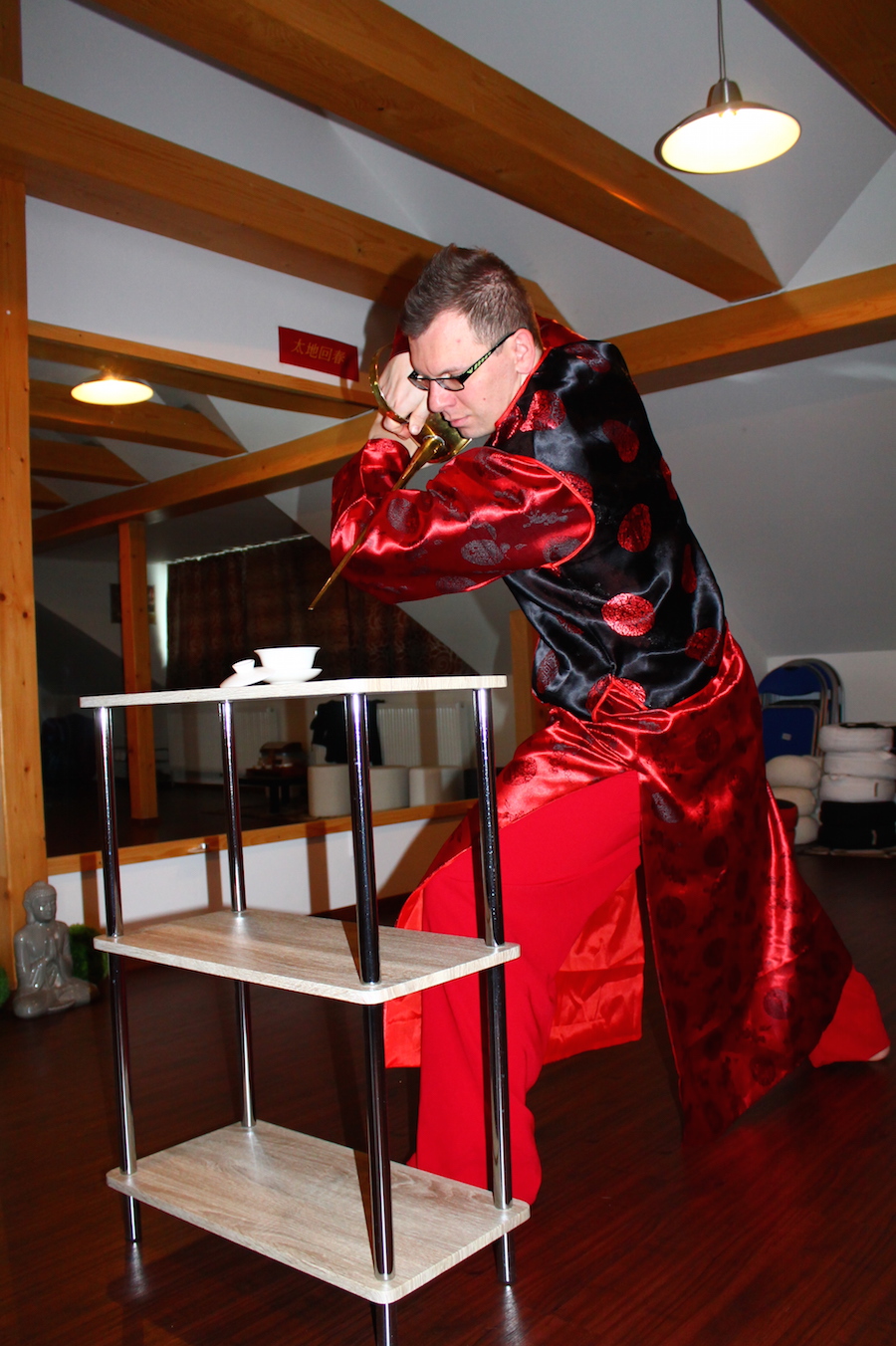 Where Can I Buy a Long Spout Teapot Online?
Teasenz currently does not offer such a product online. However, if you're interested in buying one, we could source it directly from specialised long spout tea makers right here in China. Simply contact us and let us know your preferred size of the teapot, the length of the spout and any other wishes you might have.