Liu Bao Tea Brewing: How To Make Liu Bao Cha?
Liu bao tea is a kind of hei cha (dark tea) from Guangxi. The production methodology is the most similar to the production of shou pu erh and also includes the final step of wet-piling.
To steep a Liu Bao tea, Yixing teapots are ideal. If you don't have one, a ceramic teapot or gaiwan are great alternatives.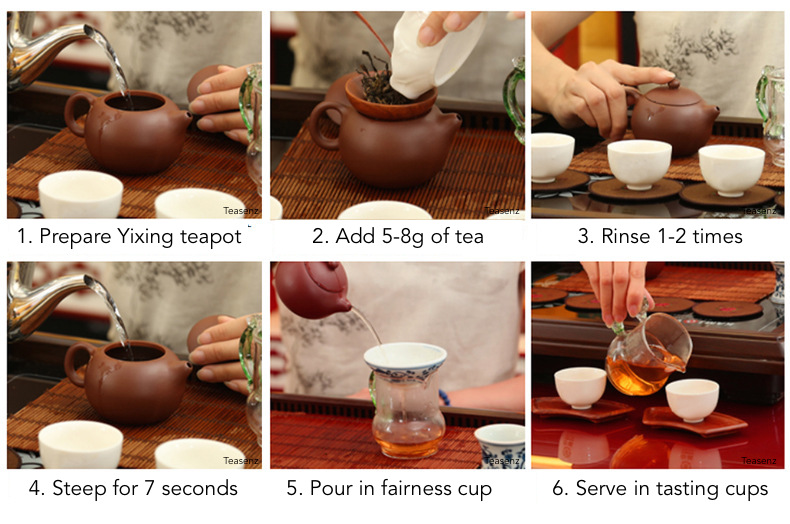 Steps to make Liu Bao Tea:
Prepare an Yixing teapot dedicated for Liu Bao tea. If you do not want to dedicate an Yixing teapot to Liu Bao tea, it's better to use a porcelain gaiwan or ceramic teapot. Yixing teapots absorb tea aroma, hence using it for a single kind of tea is recommended.
Add 5-8 grams of leaves depending on the size of the teapot. If you're drinking tea alone and you don't want too many resteeps, then you may reduce the amount to 3-4 grams.
Applying a 2-3 second rinse once or twice. This may remove any impurities if there are, and prepare the leaves for a better first steep. It may also remove potential unpleasant storage flavour of really old Liu Bao.
Steep for 7 seconds using water at maximum temperature. Liu Bao teas are very forgiving when it comes to preparation. They're hard to oversteep, as in, they won't easily become bitter. Thus, you can adjust the steeping time depending on your preferred intensity.
Pour the tea in a fairness cup. Make sure there's no tea left in the teapot, or the next brew may become untasty. Remove the lid and let the steam come out, until you use it for the next steep.
Serve in small tea tasting cups. Small tea cups allow the tea to cool down faster
The processing method of Liu Bao tea is complicated and requires dedication, effort and years of experience. Read this blog post to find out more: Liu Bao tea production