The History of Tea Gifts in China & What You Should Get This Holiday Season
Tea is by far the most popular gift in China for many reasons. In this article, we're going to discuss the 3 most important causes below:
Sharing Culture
For a beverage with a long history, people love to romanticise the cultural value behind tea. The amazing quality of tea growing and processing today is because of the knowledge we've accumulated over thousands of years from our ancestors.
Because it's so embedded in the culture, many Chinese are highly knowledgeable about tea. People appreciate it like wine, and want to know about their origin and processing methods. When preparing and drinking teas, they're appreciated for their appearance, flavour, aroma and aftertaste. Tea is also an indispensable part of Chinese tea weddings ceremonies.
Tea is an indispensable part of a Chinese weddings.


Enjoying Status
The surge in popularity of tea in China enjoyed momentum when emperors, officials as well as famous poets started to collect, drink and share tea within their network. Due to this, it became a status product. Demand for high quality tea increased, allowing the market of artisan teas in China to flourish.
Tea Processing
Some farmers sticked to producing common teas to sell to restaurants and individuals seeking a cheap and healthy daily drink. Others started to shift their focus from quantity to quality and also paid attention to fancy packaging. This group of farmers aimed for the premium market of tea gifts. Tea was also seen as a safe gift that anyone will like. Even if the receiver don't like tea that much, it's still something that has to be served when receiving guests at home.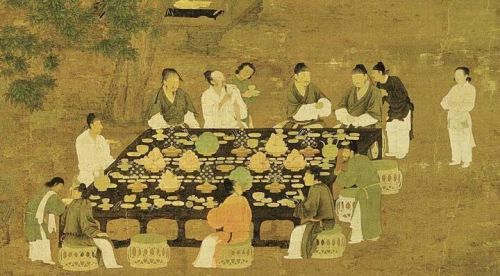 Receiving guests with tea
Be Healthy
Though status and saving face is important in China, tea in the very beginning, was a simple but effective health drink. There's lots of scientific evidence today that can back up this claim. So when you're giving tea, you're wishing someone good health!
Tea Gift Recommendations
Do you want to buy tea for someone special? Then read our recommendations below: