7 Best Teas for Cold Brewing + Easy Recipes
There's no such thing as the best tea for cold brewing. Chinese tea needs to be valued for its diversity. That doesn't mean that all teas are suitable. We've curated 7 teas that will guarantee an amazing result. In this article we'll discuss each of these teas and introduce you easy to make recipes with blending suggestions.
If you're unfamiliar with cold brewing, you may also read this introductory article first: What Is Cold Brew Tea?. This guide explains the concept of cold brewing, and how it's different versus regular hot brewing. It will also go into common tips on cold brewing and the tools you may need.
Now let's go ahead, and find what you'll need to start your cold brewing adventures.
What You'll Need
The beauty of cold brewing is that anyone can make it, and most likely, you don't need anymore tools than what you already have at home. Cold brewing can be done in any vessel that can be stored in the fridge. This can be a water bottle, soft drink bottle or teapot. As long as it has a lid to protect the tea from odors present in the fridge. Transparent vessels are better, because you can monitor the color, which often function as a good indication, whether the tea is ready or not.
To serve tea, you can use glassware such as straight glasses, wine/whiskey glasses or mason jars.
You see, as long as you also have tea in the cabinet, you can start cold brewing right now, or checkout our tea recommendations below:
Cold Brew West Lake Dragon Well Green Tea
If you love green tea, this is one that you've to absolutely try. Dragon Well (long jing) is the most famous Chinese green tea from the West Lake tea region. Cold brew this tea, and you'll enjoy the delicate and refreshing notes of nuts and soy beans with zero bitterness!
Recipe: Cold brew 10g of this tea in a liter of water and let it steep for 5 hours in the fridge.
Cold Brew White Peony White Tea
This white tea is also known as 'Bai Mu Dan' in China. It's a wonderful white tea with a wonderful color palette. The white buds in this tea adds softness, smoothness and complexity to your cold brew tea, while the leaves improves the intensity of the taste and add fruity notes. Thus, a perfectly balanced combination for your cold brewing adventures.
Note: Bai Mu Dan, is the second highest grade of white tea. Though 'Silver Needle' is the highest grade, we do not recommend this tea for cold brewing. Silver Needle consists of mainly tea buds, and yields less flavor when cold brewing.
Recipe: Cold brew 8g of this tea in 1 liter water for 6 hours in the fridge.
Blending tip: optionally, adding 1-2g of our rose flower buds can add calming effects and anti-aging benefits! Or go for a few pieces of canned or fresh lychee fruits for additional sweetness.
Cold Brew Dian Hong Black Tea
Hate the strong flavor of black tea? Try it again, but then cold brewing a classic Dian Hong black from Yunnan, China. Many who hate to drink hot black tea, will still fall in love with this cold brew Dian Hong. It's characterized by savory caramel and honey notes! And yes, there's absolutely no trace of bitterness.
Recipe: Cold steep 5 gram of this tea for 5 hours in 1 liter water in the fridge.
Cold Brew Tie Guan Yin Oolong Tea
This is the most popular oolong tea in China, also known as the 'Iron Buddha'. The light oxidation level of this tea smoothens out any astringency while enhancing the complex flowery aroma. It's a guaranteed winner when you cold brew this tea.
Recipe: You'll only need 5g and cold steep it in 1 liter of water for 6 hours in the fridge.
Blending tip: light oolongs like Tie Guan Yin goes really well osmanthus flowers. Add 1-2 grams for an enhanced sweet and buttery notes.
Cold Brew Da Hong Pao Oolong Tea
For those who love more strongly oxidized oolongs, Da Hong Pao (Red Robe) is the choice. Cold steeping this tea will get you a robust and toasty tea with notes of minerals and savory cinnamon.
Recipe: Cold brew 5g of this tea for 4 hours in the fridge. Optionally, serve with a cinnamon stick.
Cold Brew Pu Erh Tea
Love pu erh. When you cold steep, we recommend to get this loose leaf ripe pu erh. You'll extract wonderful earthy notes of oak, pine and wet wood with hints of cocoa!
Recipe: Cold brew 4g of this tea for 4 hours in the fridge.
Blending tip: add 1-2g of chrysanthemum flowers to enjoy a classic chrysanthemum pu erh, which is often enjoyed during Chinese dim sum. Ripe pu erh also goes very well with oranges, so using slices of oranges to garnish tea is also a great option.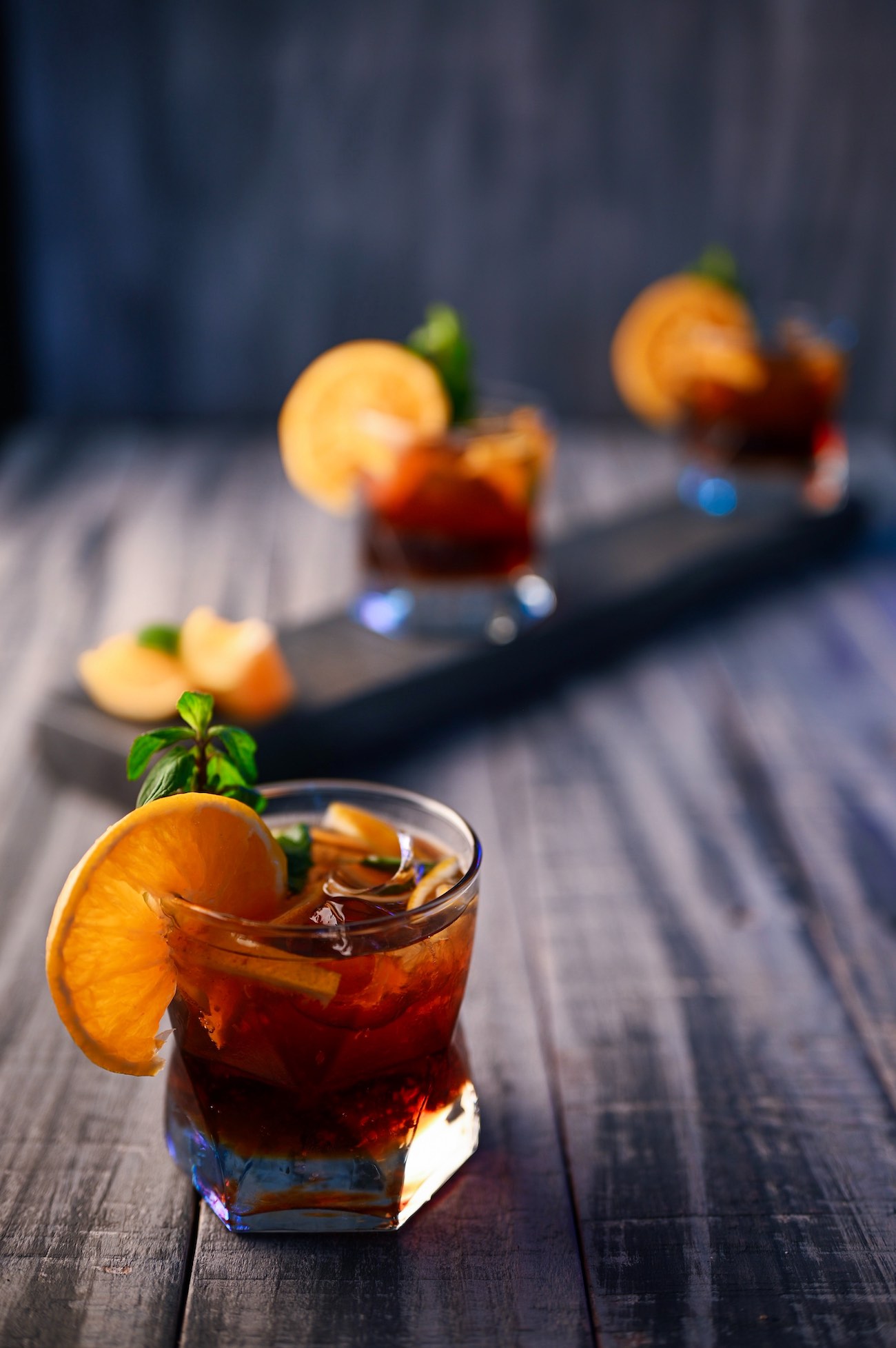 Cold Brew Jasmine Tea
Cheap jasmine teas, though very fragrant, often leave an awful dry mouthfeel. That's not gonna happen with this premium jasmine tea consisting of just young buds! Take a sip and you may want nothing else. It's super flowery and perfectly balanced with the green tea base. There's no sign of astringency and the texture is so soft, delicate and milky.
Recipe: Steep 6g of this tea in 1 liter of water for 5 hours in the fridge and that's it!
Now go ahead and pick your tea to start your cold brewing adventure. Don't forget so serve the teas with ice in mason jars, wine glasses or straight glass, and also top it of with some beautiful garnishes such as green mint leaves.
If you've any questions, or if you would like to share your ideas and suggestions, feel free to add your comments below.